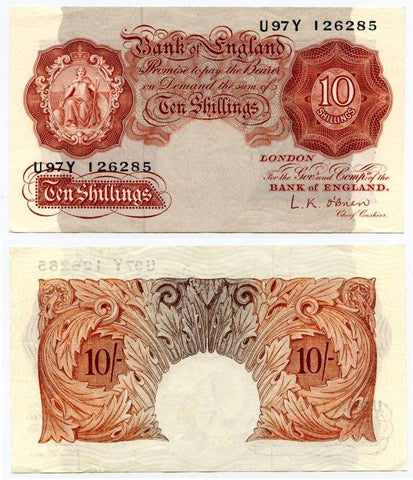 1955-1960 Great Britain Ten Shillings Seated Britannia Signed O'Brien Prefix U97Y
Description:  A nice extremely fine to about uncirculated ten English Shillings banknote. This banknote was issued in 1955 through 1960 and is brown-violet on gray and pink underprint in color. It shows Britannia seated within a frame top left corner of the front.  The back is also brown-violet on gray and pink underprint in color. The banknote has a watermark showing the head of Britannia in the white circle bottom center. The note is signed by L. K. O'Brien the Chief Cashier the Bank of England at the time and has the prefix U97Y. This particular note has the serial number 126285 and has a security thread which is vertical and is located left of center if you look at the front of the note. Please carefully review the scan as it is part and parcel of our description.
Date: 1955-1960.
Printer: Bank of England.
Size: Measures ~5 1/2" by ~3 1/8".
Pick Number: P 368c.
Condition: I would grade this banknote as a nice extremely fine to about uncirculated or better with all the details being very well preserved. The note has no obvious creases, no graffiti or writing, no splits, no soiling, no pinholes, or tears. The note has most of original crispiness and is just beautiful and in great shape. It does has no obvious wear commensurate with its age and circulated status. Please see photo for additional condition information.
---
We Also Recommend