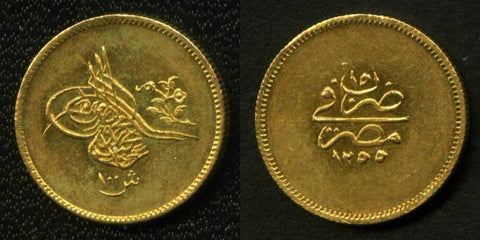 1255 AH Year 15 Cairo Egypt Gold Coin Rose and Toughra Design 100 Qirsh Sultan Abdul Majid AU+
Description:  >Gold 100 Qirsh (or Piastre) struck in Mist (Current Day Cairo) in Egypt during the reign of the Ottoman Sultan Abdul Mejid son of Mahmud II who ascended the throne in 1839 AD (1255 AH). The coin was struck in his 15th reignal year (1852 AD). The coin is dated 1255 on the bottom of the reverse, which is Mohammad's accession date to the throne. The reverse also indicates the coin was struck in Misr current day Cairo the capital of modern Egypt. The obverse of the coin has the sultan's toughra and a rose to the right. Please view the scans as they are part and parcel of our description.
Date: 1852 AD
Mint: Misr current day Cairo Egypt.
Size and weight: This is a 100 Qirsh (one Pound), weighs 8.544 grams of 0.875 gold and is 21 mm in diameter.
References: It is  KM#235.2
In Closing: This coin is a beautiful coin worthy of a spot in your collection. 
Condition: I would grade this coin as about uncirculated with a nice centered strike. The coin has minimum wear and some surface scratches. It also has some minor stains but nothing to really worry about. Please see photo to appreciate the quality and condition of this beautiful coin.
---
We Also Recommend