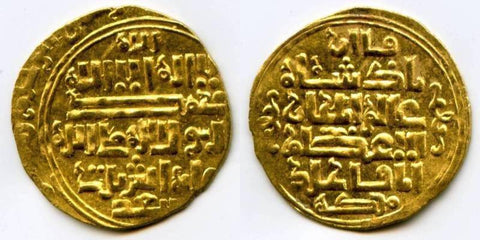 Iran Salghurids Gold Coin Atabegs of Fars Queen Abish bint Sa'ad 1265 - 1285 AD XF+
Description: Gold dinar from the times of Queen Abish Khatun bint Sa'ad. Abish was the queen of the Salghurids, who were based in Shiraz in current day Iran. She ruled in the period 663-684 AH/ 1265-1285 AD. The name Sa'ad is evident on the bottom of the obverse under the Kalima, indicating the coin to have been issued by Abish Bint (daughter of) Sa'ad. The reverse is in Arabic letters, but turkoman language, has the words " Ka'an; Bad shah; Alem ilkhan; Al a'azam; Abaqa Khalad; Mulkauh" with beautiful arabesque decoration on either side of the inscription. Just a great looking rare coin of uncompromised quality. Please carefully review the scan presented as it is part and parcel of our description.

Date: The date of minting is off the flan. However, the use of the word Abaqa suggests the coin was minted in the period 665-680AH.

Mint: Mint is off flan, however, it is most likely Dar al-Mulk in Shiraz in current day Iran.

Size and Weight: This is a dinar, weighs ~3.9 grams and is ~23 mm in diameter.

References: It is Album #1928.1 and identified as being R (rare). William Kazan's has a similar coin listed for the year 683 AH but having a different legend on the reverse. Condition: I would grade this coin as a extremely fine or much better. The coin has beautiful calligraphy but an off center strike on the obverse. This coin is much better than the scan shows with very well defined and legible calligraphy. A definite quality coin. Please view scans for additional condition information.
Historic Perspective: The Salghurids are a Turcoman dynasty derived from the Salghur or Salur clan. Originally they were in the service of the Great Seljuqs. In 543Ah (1148 AD) after the death of Boz-Aba, Senqur established himself as an independent ruler in Shiraz. The Salghurids were vassals to the great Mongol Khans and later to Hulagu as well as his descendents. To strengthen their ties with the Mongols, the then princess Abiish Khatun daughter of Sa'ad II married Hulegu's son Menguu Temur and eventually ruled jointly with him from Shiraz as Mongol vassal.
---
We Also Recommend