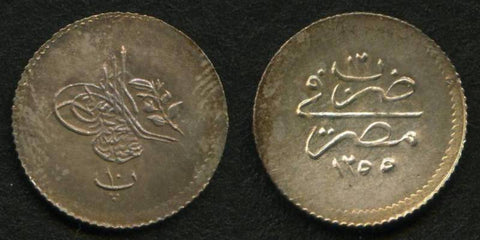 Beautiful and Rare Silver Coin 1849-1850 AD 1255 AH year 12 Egypt Ten Para Ottoman Sultan Abdul Majid
Description: A great looking about uncirculated or much better silver coin from Egypt. This is a ten para from the reign of the Ottoman Sultan Abdul Majid. The coin shows the sultan's tughra, a rose to the right of the tughra and the denomination below it. The reverse says Duribah Fi Misr (Struck in Egypt) then the number 12 above the "Beh" in "Duribah," for the twelfth year of the sultan's rule, and Abdul Majid's accession year of 1255 AH in the bottom. It is KM-225 measuring approximately 14 mm in diameter and weighing ~0.37 grams of 0.833 silver. The coin has a toothed border, a reeded edge, and a thin planchet. Coins of such small denomination, small size, and made of precious metal are usually hard to come by in such a nice grade. They normally were used extensively by the people, were lost, severely abused, or melted for their value. Please carefully review the scan presented as it is part and parcel of our description.

Date: 1849/50 AD - 1255 AH year 12 of Abdul Majid's reign.

Mint: Misr or Fustat on the outskirts of Cairo the current capital of Egypt.

Size and Weight: This is a 10 para and is ~14 mm in diameter and weighs ~0.37 grams of 0.833 silver.

References: It is KM #225.

Condition: I would grade this coin as a superb about uncirculated or much better with all the details being well preserved. The coin has a nice light colored toning and great eye appeal. It has a few bag marks, a few scratches but is much better than the scan shows. It has minimum wear, if any, commensurate with its age and circulated status. Please see photo for additional condition information.
---
We Also Recommend