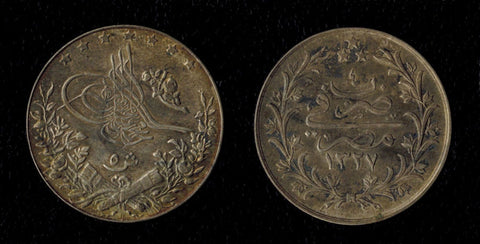 Beautiful and Scarce Silver Coin 1911 AD 1327 AH year 4 Egyptian Five Qirsh Ottoman Sultan Muhammad V
Description:   A nice extremely fine or much much better silver coin from Egypt. This is the scarce five qirsh (low mintage of 1,351,000) coin from the reign of Muhammad V the Ottoman Sultan. The coin, which was struck late in 1911 came after the 1327 AH year 3 which was struck in early 1911 in a much higher mintage and as such is scarce. The coin shows the sultan's tughra, a rose to the right and above the tughra and the denomination below it all surrounded by a floral design. There are also 7 stars above the tughra along the edge, again on the obverse. The reverse says Duribah Fi Misr (struck in Egypt) with the number 4 for the 4th year of Muhammad V's reign over the letter "Beh" on top and three stars above it all. There is also Muhammad V accession year of 1327 AH below it, all surrounded by a floral and foliate design along the edge. It is KM 308 measuring approximately 26 mm in diameter and weighing about 7 grams of 0.833 Silver. The coin has a reeded rim. Please carefully view scan as it is part and parcel of our description. 
Date: 1911 AD - 1327 AH year 4 of Mohammad V's reign. 
Mint: Egypt, actually these were struck in Birmingham England as evidenced by the "H" in the bottom of the obverse. 
Size and Weight: This is a 5 Qirsh and is ~26 mm in diameter and weighs ~7 grams.  
References: It is KM #308. 
Condition: I would grade this coin as a good extremely fine or much much better with all the details being very well preserved. The coin has some of its original mint luster left and is unevenly toned. The coin has minor wear to the higher point, which can be seen in the scan. Such wear, which is commensurate with its age and circulated state is more pronounced on the obverse. It has scratches and minor bag marks. The coin has nice eye appeal. It is much better than the scan shows. Please see photo for additional condition information.
---
We Also Recommend