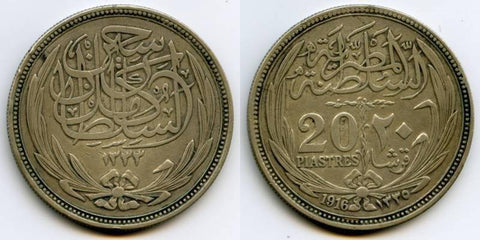 Egypt Silver 1916 AD, 1335 AH Twenty Piastres Sultan of Egypt Hussein Kamel
Description:  A good extremely fine or better 1916 (1335 AH) rather uncommon Twenty Egyptian Piaster silver coin. The coin depicts the name of Hussain Kamel or Hussein Kamil as the Sultan of Egypt during the British occupation of Egypt.  The coin is labeled (Al Sultannah al-Masriyah) Sultanate of Egypt. It is KM-321 and weighs 28 grams of 0.8333 silver. It measures approximately 40 mm in diameter. The coin has the accession date of Sultan Hussain of 1333 AH on the obverse. Please carefully view scan as it is part and parcel of our description.
Date: 1916 AD - 1335 AH.
Mint: Egypt (Actually these coins were minted in England).
Size and Weight: This is a twenty piastres, weighs 28 grams of 83.3%25 pure silver and is ~40 mm in diameter.
References: It is KM #321.
Condition: I would grade this coin as a good extremely fine or better with all the details being well preserved and very nice eye appeal. It is much better than the scan shows. It does have minor scratches and wear commensurate with its age and circulated status. The coin also has 3 small rim bumps which can be seen at about 10:00 and 6:00 o'clock on the obverse. The coin has very nice eye appeal. Please carefully view the scan complete condition information.
---
We Also Recommend