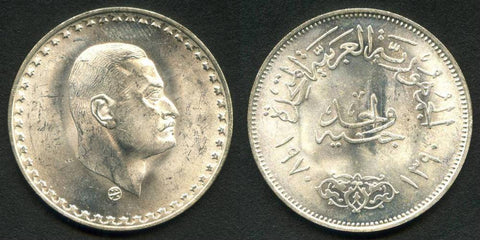 Egypt One Pound Silver Coin Commemorating The Death of Gamal Abdel Nasser 1970 AD 1390 AH
Description: Beautiful Brilliant About Uncirculated or much better large and heavy silver coin. This is the 1970 (1390 AH) One Egyptian Pound or Gineih silver coin commemorating the death of Gamal Abdel Nasser. The coin depicts the bust of the late President Gamal Abdel Nasser facing right. The coin commemorates Nasser's death in September 1970 after ruling Egypt for 18 years, since he deposed King Farouk in July 1952. The obverse also has the caption "Al-Gomhopriayah Al Arabyaha Al Mutahida" or United Arb Republic (UAR) on top of the central denomination. The coin was issued during the period when Egypt a Syria formed the UAR. The reverse is all in beautiful naskhi Arabic Calligraphy showing the dates, the denomination, and the fact that it is from the UAR. There is also an arabesque floral design on the bottom. Just a great looking coin with mirror like fields especially on the reverse. It is KM-425 and weighs 25 grams of 0.72 silver. It measures approximately 40 mm in diameter. The coin has a reeded rim. Please carefully review the scan as it is part and parcel of our description.

Date: 1970 AD - 1390 AH.

Mint: Egypt.

Size and Weight: This is a one pound, weighs 25 grams and is 40 mm in diameter.

References: It is KM #425.

Condition: I would grade this coin as a beautiful brilliant about uncirculated or possibly uncirculated with mirror like fields especially on the reverse. It has all of its details very well preserved. The coin is much better than the scan shows. It does have some scratches in the fields and some bag marks. Just a great looking coin which would make a great addition to your collection.The coin is much better than the scan suggest. Please see photo for additional condition information.
---
We Also Recommend